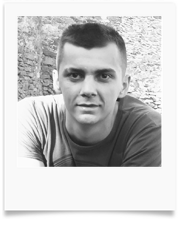 Antun – (Vector Artist)
Antun's portfolio

Hello Antun: Please can you introduce yourself and tell us a little about your background?
Hi, my name is Antun. I was born and currently live in a small town called Pozega in Croatia.
As a child I always loved to draw and had an interest in all kind of arts but unfortunately I put my drawings aside and went in another direction. After graduating from the Faculty of Electrical Engineering I was working as a Web designer. However, after some time I have returned to my first  love – drawing and graphic design.  I have been learning Illustrator and Photoshop on my own. As it was fun to create my drawings in digital form I realized that it is more than a hobby. I learned design by practicing it for five years and I'm still learning every day. Like many designers I've got involved in freelancing and I have registered on a few vector stock sites where I can be free to create illustrations and be fully creative without deadlines.
Why did you choose to create infographics over other vector themes?
When I by chance saw one in a book I was reading. I asked myself, can I create simpler and better infographics than that one? It turned out to be a fun and challenging task that I really liked. I continued to create infographics because they can show the most complex data in a very interesting way, even to a reader who doesn't know much about the subject.
Do you use real data when creating your infographics?
On images I produce for Stock sites I don't use real data when creating the infographic, because the person who uses my image can adjust it to his needs. Usually I do some research on the web and create the infographic from that, but when I do infographics for clients I use real data to create them.
What kind of work have your images appeared in? 
Mostly in newspapers and online articles. I have created illustrations for Oxford books, mobile applications, presentations, and so on…
What does a typical workday look like for you?
As a freelance designer, there is no such thing as a typical day but below are some things I do during a workday in my home office:
I get up around 7 or 8 a.m. and prepare for the day by checking my schedule, analysing my business diary for current day, I set my mind on planned work: graphics,  cup of coffee, and returning emails, searching new ideas and drawing sketches. I'm ready to start work at 9:00. I work through my prioritized tasks until around 11:30, when I stop for lunch. Then after little break I continue to work to 4.00 p.m. After work I usually go for a walk and I bring my camera with me. This helps me to get some "fresh eyes" and a new perspective. I do some work again after dinner if needed.
What is your most popular image?
The most popular images are my timelines. I combine infographics with a timeline and people have really shown that they like it.
Images Featured above:
ING_19082_00037,  ING_19082_00290,  ING_19082_00192,  ING_19082_00093,  ING_19082_00055,
ING_19082_00118,  ING_19082_00134,  ING_19082_00169,  ING_19082_00217